Klear Kanoo is in the Press
Check out these Press articles featuring Klear Kanoo
---
December 12, 2018
Klear Kanoo offers Unique Holiday Gift
Silvia Madriaga and the Klear Kanoo company is excited to introduce their newest Klear Kanoo model. This boat is clearer than ever! No aluminum frame to impede the clear views around and below and comes with 2 hard, clear and comfortable seats. They even come with 2 clear paddles! Can be used as a one or two-seater!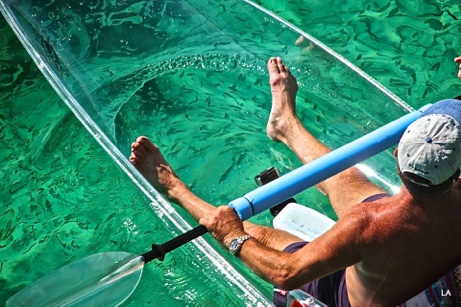 The boats are easy to maneuver, "any age or skill level can Kanoo," says Silvia. They're made of super strong and durable Polycarbonate (the same stuff they make fighter jet canopies from). They're only 39lbs and super easy to carry! Even 2 children can carry it. It's the most fun, coolest and easiest way to paddle the Emerald Coast! Silvia says "It's a truly magical experience! They're perfect for our clear waters and the Artificial Reefs and anywhere you paddle. Sea Turtles, Fish, Crabs, and Dolphins below your feet. The price is $1600 + tax and Silvia is offering free local delivery as well as a $100 holiday coupon. It's the perfect family gift! See pictures and video at www.KlearKanoo.com or call 850-598-0454 to buy yours today!
---
April 25, 2017
Destin.com
The Coast is Clear
by svasquez
Im
agine a glass-bottomed boat and the excitement of cruising right over sea life in a real-world aquarium. Now, imagine the entire boat is transparent ­­– well in Destin that is now a reality with Clear View Canoe Rentals.
Lori Jenkins, the owner of the rental company, said she first got the idea for the business after seeing KlearKanoo advertised in the area.
"I kept seeing ads pop up, and thought, we need to know where we can rent these, but no one was renting them," she said.
Not long after that, Jenkins met with local KlearKanoo distributor Silvia Madriaga, purchased four tandem KlearKanoos and launched her business…  See the complete article on Destin.com
---
July 15, 2016
Vie Magazine
I CAN SEE CLEARLY NOW
by Amanda Crowley
"The popularity of the boats is growing quickly," Madriaga says. "I've seen the Kanoos locally in Northwest Florida at Crab Island and all over the area in rivers, in springs, in the bay, and at the beach." It's easy to envision the success of such an idea in and around coastal towns, but Klear Kanoo has expanded and is now selling across the country. Kanoos have been shipped all over—from South Florida to California—to excited clients who are ready to discover a new view of their favorite aquatic locations.
Klear Kanoos can be shipped to anywhere in the United States, but Madriaga delivers locally for free from the warehouse located in Miramar Beach. "We deliver in the Klear Kanoo Mobile, with a big bow on the boat," she says. "It's a great gift the whole family can enjoy." Each boat purchase comes with suction cup drink holders and Klear Kanoo T-shirts and hats as exclusive bonus gifts for owners. Many owners of beach rental homes or condos are buying Klear Kanoos and offering them as amenities for their guests. Beach rental companies are also beginning to offer rentals of the boats.
"Riding in a Kanoo is a beautiful experience—like scuba diving, but without the tank or the wetsuit," Madriaga expounds. "It's amazing to experience the water under and around you. This isn't a glass-bottom boat; the entire boat is clear! We see turtles, fish, and jellyfish often, but even just seeing the Gulf floor is incredibly cool…"    read more…
---
Oct 27, 2014
30A.com
Klear Kanoos- Klearly the 'Next Big Thing' Along The Emerald Coast
by Lauren Lege
"It's like scuba diving without the wetsuits and tanks." –Vicki Baker, Klear Kanoo enthusiast.
Klear Kanoo which debuted its original transparent canoe last summer is releasing an updated version this season. The new Klear Kanoo has shed its original aluminum frame, is equipped with two clear seats and comes with two clear paddles. With no visible boundary between you and the world below, this craft is ideal for fishermen.
Made of polycarbonate, Klear Kanoos are extremely durable and resistant to any wear and tear they may endure. (Fighter jet canopies are also made of polycarbonate, to give you some perspective on their durability.)
But their heavy-duty make up comes at no compromise to their agility. Weighing in at only 39 lbs, this canoe is just as dexterous as it is indestructible.
"As the premier engineering thermoplastic, polycarbonate replaces the limitations of many traditional materials with its unmatched combination of high-performance features," said Silvia Madriaga of Klear Kanoo. "Products made from polycarbonate are shatter-resistant and virtually indestructible."  See article on 30A.com