Vie Magazine Article
Vie Magazine did a FANTASTIC article on Klear Kanoo last month. Here are some excerpts from…
I CAN SEE CLEARLY NOW
by Amanda Crowley
Madriaga is a broker and realtor with ResortQuest Real Estate based in Miramar Beach, Florida, when she's not wearing her entrepreneurial hat and promoting the Klear Kanoo. She relates that over the past few years, countless hours have been invested to improve upon the original model, making a great idea even better. The new Kanoo has a "much better shape and is better for waves," Madriaga says. "The new designs are also easy to get in and out of, making them perfect for people of all ages to use. We like to say, 'Any age, any skill level can Kanoo!'"
Weighing in at an incredibly light thirty-nine pounds, the Klear Kanoo is easy to transport and made of a high-tech polycarbonate. This incredibly durable high-impact polymer is also used in the production of bulletproof glass and fighter jet canopies, and the practically indestructible material can go from extremely low to high temperatures without any worries. The material won't yellow and does not heat up in the sun like other plastics can, making for a comfortable ride for paddlers in any climate.
"The popularity of the boats is growing quickly," Madriaga says. "I've seen the Kanoos locally in Northwest Florida at Crab Island and all over the area in rivers, in springs, in the bay, and at the beach." It's easy to envision the success of such an idea in and around coastal towns, but Klear Kanoo has expanded and is now selling across the country. Kanoos have been shipped all over—from South Florida to California—to excited clients who are ready to discover a new view of their favorite aquatic locations.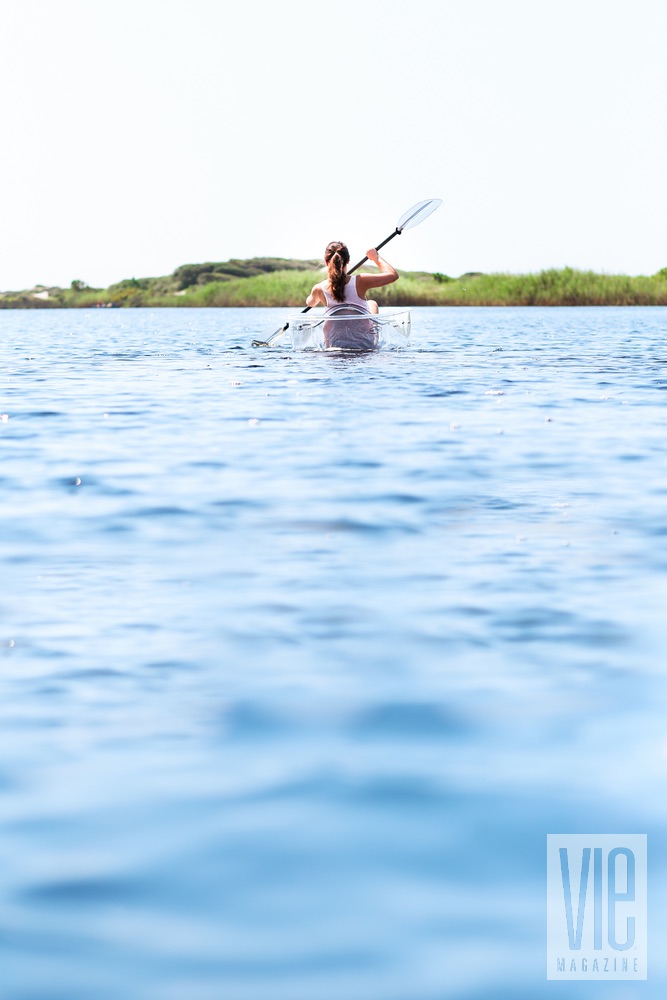 Klear Kanoos can be shipped to anywhere in the United States, but Madriaga delivers locally for free from the warehouse located in Miramar Beach. "We deliver in the Klear Kanoo Mobile, with a big bow on the boat," she says. "It's a great gift the whole family can enjoy." Each boat purchase comes with suction cup drink holders and Klear Kanoo T-shirts and hats as exclusive bonus gifts for owners. Many owners of beach rental homes or condos are buying Klear Kanoos and offering them as amenities for their guests. Beach rental companies are also beginning to offer rentals of the boats.
"Riding in a Kanoo is a beautiful experience—like scuba diving, but without the tank or the wetsuit," Madriaga expounds. "It's amazing to experience the water under and around you. This isn't a glass-bottom boat; the entire boat is clear! We see turtles, fish, and jellyfish often, but even just seeing the Gulf floor is incredibly cool."
The Kanoos can be modified for fishing enthusiasts by attaching rod holders, providing the ultimate fishing experience: seeing the catch before you reel it in! Additionally, a Klear Kanoo comes with two seats, but Madriaga found a way to modify the boats to accommodate a single rider by making them removable. "Though," she adds, "if you leave it with two, there's a seat for your cooler. A day on the water wouldn't be complete without a cooler of snacks!"
It's amazing to experience the water under and around you. This isn't a glass-bottom boat; the entire boat is clear!
For Madriaga, the excitement lies just as much on land as at sea. "I love my job, seeing people so happy and having fun," she says. "It's great watching how excited people are when the Klear Kanoo Mobile drives up and we take the boats out on the water." Introducing clients to the product and answering questions about the boats are added bonuses for both Madriaga and the customers when they get local delivery. "We are a business, but we also provide a service and love to make people happy. We've become friends with all of our clients and love to get pictures, videos, and comments on how much people love their boats!" Madriaga posts them on the company Facebook page and website.
"I bought my Klear Kanoo a year ago. It's been one of my best purchases ever," says Mike Reynolds of Milton, Florida. "It's opened up a whole new adventure that we are not able to see from on top of the water. Just one outing in the Klear Kanoo and you're hooked. Not to mention all the attention it gets from people who see it; no one can simply walk by without taking a look at it."
See the original article on VieMagazine.com